Foresight is the ability to think effectively about how the future might be different, so you can prepare for anything, and start to make changes in your own life, and in society, for the better. 


This course is for your team or organization if:
You're curious about foresight, but don't know anything about it yet!
You want to learn a few habits that can help you spot changes faster to act faster and adapt faster.
You're excited to stretch your imagination.
You want to take away practical skills you can share with others, to help them think about the future more creatively and optimistically.
You want to explore a futures topic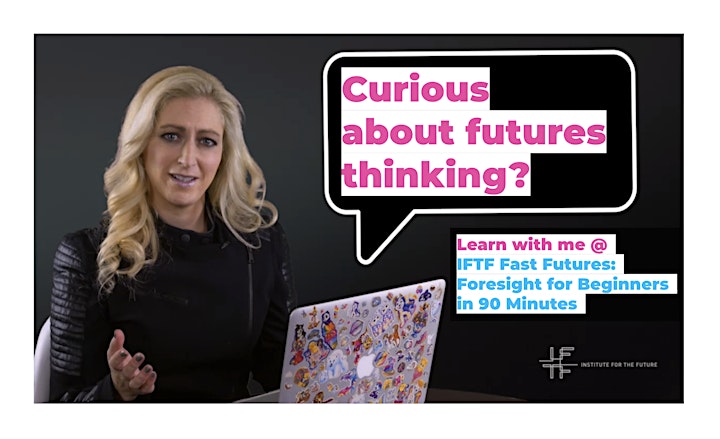 IFTF Fast Futures is a live-online training led by Jane McGonigal, Ph.D., a research director at Institute for the Future and New York Times bestselling author of Reality is Broken: Why Games Make Us Better and How They Can Change the World and SuperBetter: The Power of Living Gamefully. Jane has created future forecasting games for organizations like the World Bank, the National Academy of Sciences, the Rockefeller Foundation, and the New York Public Library, and teaches the popular "How to Think Like a Futurist" course for Stanford Continuing Studies and the "Futures Thinking" specialization on Coursera. She has spent over a decade working as a futurist at IFTF.
SKILLS
You will learn how to:
Give examples of creative foresight—who practices it, and why?
Explain why the future doesn't start today—no matter how catchy the saying is!—and when, exactly, it does start
Understand signals and drivers of change, so you can find exciting and inspiring clues to how the future might be different
Play the 100 Ways Anything Can Be Different in the Future game, to challenge your own and other people's assumptions about what can and can't change in the next decade
TAKEAWAYS
After this IFTF Fast Futures training, you will:
Know how to practice the 3 most important habits of professional futurists
Have a clearer idea of whether foresight is a skill set or career path you would like to develop further
Be invited to join Institute for the Future's global community of foresight practitioners, including free IFTF Foresight Talks monthly webinars and the IFTF Foresight Essentials newsletter
RESOURCES
After the training, we'll send you these downloadable PDFs so you can keep practicing your new skills:
Habit Worksheet: How to Collect Signals of Change
Habit Worksheet: How to Track Drivers of Change
Game and Conversation Facilitation Guide: 100 Ways Anything Could Be Different in the Future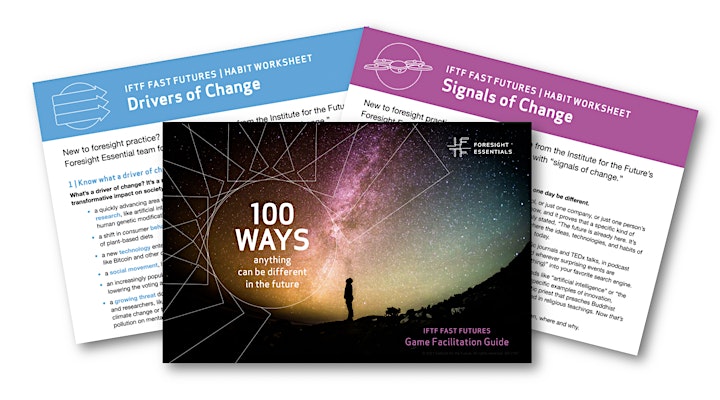 The course is designed for individuals with little or no previous experience with "futures thinking" or creative foresight. The class will be conducted live on Zoom and is limited to 50 students. You will receive a link to the Zoom meeting room by email 48 hours before the event. Participants may choose to turn off their video and microphone, but will be expected to participate in the live text chat. A recording of this course will not be made available to registrants and participants should attend the class live.
REVIEWS
"In any industry, the ability to look beyond the immediate is a competitive advantage. That might sound strange coming from a priest, but even the church has a need to not be caught off guard. The IFTF Fast Futures training is exactly the tool we needed to start to look ahead and spark provocative conversations. The best part about their method is that it's a systematic approach that is easy to understand and apply immediately. In just 90 minutes, one can be trained to look for the signals of the future that's already showing signs among us. I highly recommend this training!" — The Rev. Lorenzo Lebrija | Director, TryTank Experimental Lab
"Best event I have participated in all year — so grateful for this hour and a half!" — Barbara
"Really inspiring and challenging. I feel very imaginative now and more open-minded to possibilities." — Luisa
"I thought only select visionary people can be futurists, but now I realize it's in all of us!" — Xiao